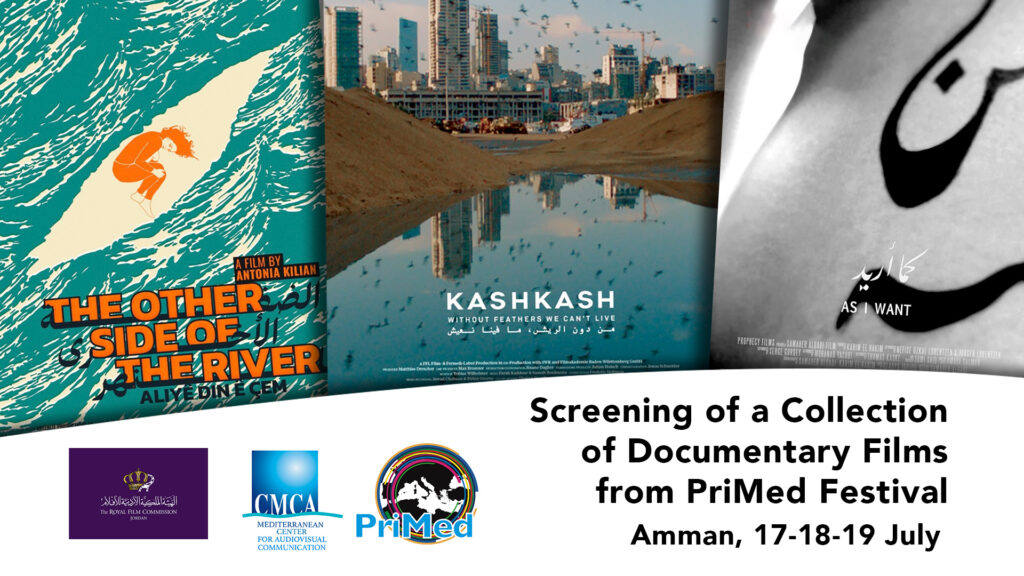 The CMCA in collaboration with the Royal Jordan Film Commission is organizing a series of screenings in Amman, Jordan. The documentaries will be broadcast from July 17 to 19 from 8 p.m.
This event is free and it is organized for the promotion of the festival PriMed. Find here the detailed program of screenings.
Monday July 17 – 8 p.m
90 minutes, 2022
Direction: Lea NAJJAR (Germany, Lebanon)
Production: FFL Film – Fernseh-Labor Ludwigsburg GmbH & Co. KG (Germany), in co-production with Doha Film Institute (Qatar)
First Film Award, 2M Broadcast Award, ASBU Special Mention – PriMed 2022
Above Beirut flies an unexpected bearer of hope: the pigeon. Young people play "Kash Hamam" with him.
During the recent dystopian political collapse, the director takes us on a journey from roof to roof to meet three players and a young girl. This one fights to join the group.
---
Tuesday July 18 – 8 p.m
(COMME JE LE VEUX)
79 minutes, 2021
Director : Samaher ALQADI (Palestine)
Production : Prophecy Films (Egypt)
Selection PriMed 2022 – Mediterranean issues
Cairo, January 25, 2013: A series of sexual assaults take place in Tahrir Square on the day of the second anniversary of the revolution. In response, a massive outpouring of angry women spills into the streets and director Samaher ALQADI joins them, unsure where this story will take her.
---

Wednesday July 19 – 8 p.m

91 minutes, 2021
Director : Antonia KILIAN (Germany)
Production : Doppelplusultra Filmproduktion GmbH (Germany), Pink Shadow Films (Germany)
Selection PriMed 2022 – First films
Hala, 19, crossed the Euphrates to escape a forced marriage and her family who support Islamic State. She finds refuge in a military academy where she is trained in the use of weapons to free other women in danger. After the Kurdish army takes over her town from ISIS, she returns to free her sisters from her parents' house.
---
The Royal Film Commission – Jordan (RFC) was established with the aim of developing an internationally competitive Jordanian film industry. Founded in 2003, the RFC is a Jordanian public organization governed by a board of commissioners. It is chaired by Prince Ali Bin Al Hussein.
For further informations about RFC > click here
For further informations about RFC PriMed > www.primed.tv