During the press conference on Monday, November 6, organized at the Hôtel de Région SUD, Valérie Gerbault, general delegate of the CMCA, unveiled the official selection of the 27th edition of the Mediterranean Festival in images.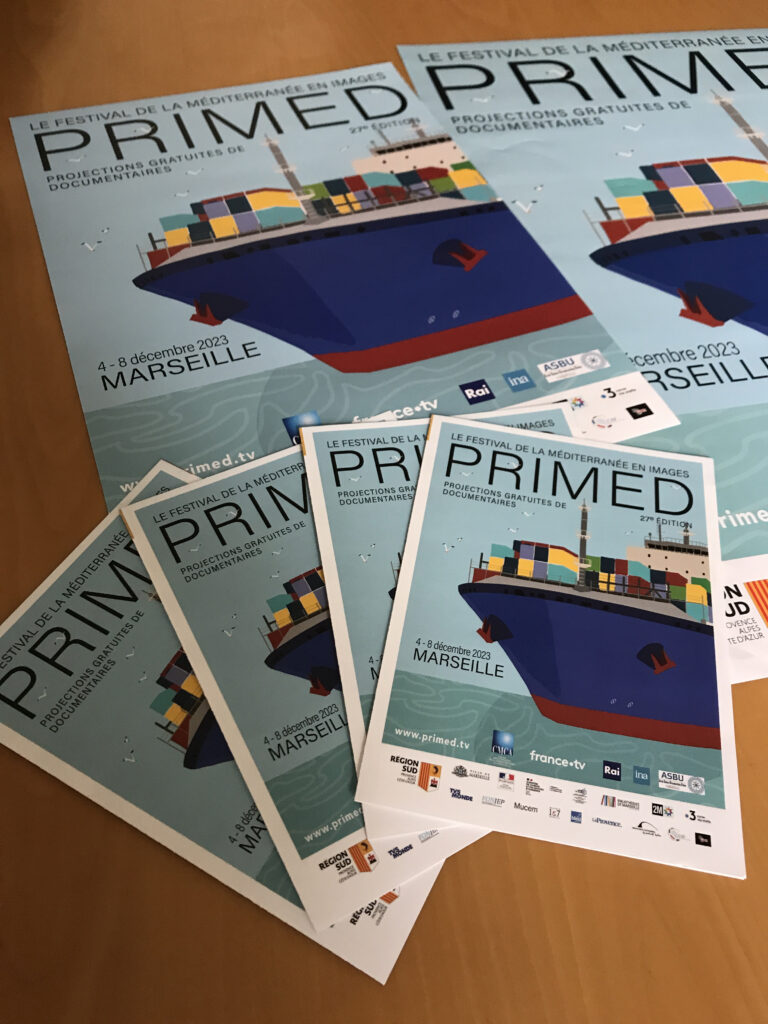 The 27th edition will be organized in Marseille from December 4 to 9, 2023.
All screenings are free and in the presence of the directors.
Find the list of selected films here:
PriMed 2023 – SELECTION
– BIGGER THAN TRAUMA by Vedrana PRIBAČIĆ and Mirta PUHLOVSKI
– LA VIE DEVANT ELLE by Manon LOIZEAU and Elaha IQBALI
– ROJEK by Zaynê Akyol
– UNDER THE SKY OF DAMASCUS by Heba KHALED, Talal DERKI and Ali WAJEEH
– HÉBRON, PALESTINE, LA FABRIQUE DE L'OCCUPATION by Idit AVRAHAMI and Noam SHEIZAF
– LA RÉVOLUTION NAÎT DES ENTRAILLES DU CHAGRIN by Sarah CLAUX
– L'ENQUÊTEUR by Viktor PORTEL
– N'EN PARLONS PLUS by Cécile Khindria and Vittorio MORONI
ART, HERITAGE AND CULTURE OF THE MEDITERRANEAN
– CARNE E OSSA by Roberto Zazzara
– FRAGMENTS FROM HEAVENS by Adnane BARAKA
– KRISTOS, LE DERNIER ENFANT by Giulia AMATI
– L'INGANNO by Sebastiano Luca INSINGA
– DOMINGO DOMINGO by Laura GARCÍA ANDREU
– LA RICERCA by Giuseppe Petruzzellis
– MY MAYSOON by Batoul KARBIJHA
– WE WON'T SHUT UP, A FILM FOR FREEDOM by Clàudia ARRIBAS, Violeta OCTAVIO and Carlos JUAN
– EN MI PIEL by Sándor M. SALAS
– GEAMĂNA by Matthäus WÖRLE
– LA PEAU RÊCHE by Inès ARSI
– LIVE-IN by Laura MARAGOUDAKI and Tatiana MAVROMATI
– SERIGNE by Rodrigo HERNANDEZ TEJERO, Edu MARIN and Adriana CARDOSO NAVARRO
MEDITERRANEAN YOUNG PEOPLE'S AWARD
– LA VIE DEVANT NOUS by Frédéric LAFFONT
– THE MIND GAME by Eefje Blankevoort, Els van Driel and Sajid Khan Nasiri
– VOUS (LES ADOLESCENTS) by Valérie MRÉJEN
FIND ALL THE EXTRACTS FROM THE FILMS ON THE FESTIVAL SITE > PRIMED.TV