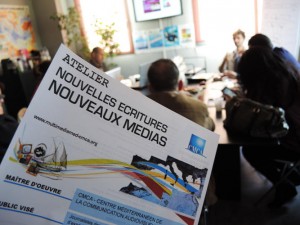 The CMCA organized from 13th to 17th March 2017 a new session of the workshop " New writings and new media " intended for the journalists of the TV, editorial staffs and WEB having at least 3 years old of experience. The trainees must come from the Mediterranean area and they must work for CMCA's televisions members.The workshop aims at training journalists in the new narrative forms, in the using of the social networks for televisions, and in developing techniques for Web-documentaries and other media tecnologies.
After the master class with Martin Gouesse of France Television about the social medias in national TV, the trainees contributed to the development of the Web-documentary "Marseille-Multimédia-Méditerranée".

During the training the journalists worked on 3 new districts of Marseille : Saint-Charles, Notre-Dame-du-Mont, Pharo.

Visit here our webdocumentary (only french) >> Marseille-Multimédia-Méditerranée
Find here the presentation of the training >> Présentation version pdf
For more details and for subscriptions please contact : cmca@cmca-med.org
---
---