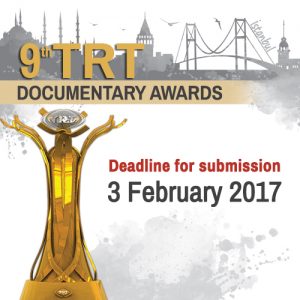 The Turkish Radio Television Corporation ( TRT ) organizes the 9th edition of the "TRT Documentary Awards". The participation is free. Entries may be submitted for the pre-selection until 03 February 2017 at the latest.
Click here to submit your film
The TRT Documentary Awards is open to all documentary film-makers who are eligible to enter the competition.
This festival is organized to support the amateur and professional documentary film-makers, to contribute to and boost the development and prevalence of the documentary film genre, to enable audience to view different and high quality documentary films from various countries and in the long term to form the groundwork where worldwide documentary film makers will meet and exchange their ideas.
After the announcement of the pre-selections on 27th of February, 2017, the screenings and evaluation of the Selection Committees will take place between 11 – 14 May 2017 in İstanbul and the awards will be announced on Monday, 15 May 2017 in a special Gala programme which will be broadcasted on TRT TV channels with the presence of the members of the juries, the directors of the awarded documentaries, press and guests.
Detailed information regarding the competition regulations, important dates, prizes etc., can be found at www.trtdoc.com.