PriMed 2016 will be organized in Marseille from November 20th to 26th  2016 at the Villa Méditerranée, the Library of the Alcazar and the MuCEM. The program is online!

For this 20th edition PriMed will have the honor to welcome as jury president Antoine Sfeir, political scientist and journalist of Lebanese origin. Find HERE the other members of the jury.
The main themes of PriMed 2016
•
Syria
: Testimonials repented jihadists, the situation of the cities under government control, and close up the "white helmets" who come to the aid of catches populations in the bombing.
•
Political and social condition of women
: a politician fighting for women's rights, the dreams of Moroccan carpet weavers (Weavers of Dreams), and struggle of single mothers in Tunisia.
•
Transformation of mediterranean cities
: the futur for the Belle de Mai district in Marseille, the birth of gothic distric in Barcelona, the changing of Casablanca before and after the colonization, the changing of religious community at Napoli.
•
Conflits in Middle-East
: back on the Lebanon war, on the tragedy of Sabra and Chatila ( Blind justice ), and the tensions between Israel and Egypt by the history of cinema.
•
Politics in Europe
: the growing-up of a neo-nazy greeck party, the relationship between Berlusconi and Cosa Nostra, the political fight of anarchist woman.
And also: Arts in Mediterranean ( Choeurs en exil , Toni Catany. Le temps et les choses, et Fayrouz, Day of glory ), Religions ( Chrétiens, Juifs, Musulmans : Des lieux saints en partage et Napolislam ), Economical crisis ( La granja del pas ), the war in Bosnia ( My own private war ), the way of life of nomades in the Tunisian desert ( Les derniers nomades), integration through the sport (Loro di Napoli) and pollution in Mediterranean (Troubled Waters).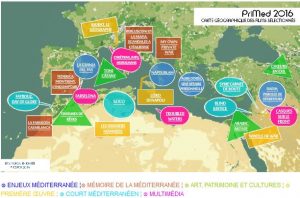 You can find HERE the map of selected films.
For this edition more than 1000 high school students from different Mediterraenan country will be present at PriMed ! More informations HERE (French language).
ALL SCREENINGS ARE FREE.
FIND THE PRESS KIT, THE PROGRAM, THE VIDEO EXTRACTS OF FILMS ON PriMed WEBSITE : www.primed.tv