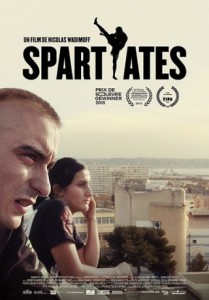 A big success for the projection organized in Alcazar Library of Marseille on Friday, November 13th at 8:00pm
The CMCA, in collaboration with the Swiss Consulate in Marseille, the Alcazar Library, Akka Films, France Télévisions, RTS (Radio Télévision Suisse) and Mission Film Distributors is organizing the first screening in France of Nicolas Wadimoff's 2014 Swiss documentary "Spartans" (winner of several awards in North America and Europe).
The screening had been followed by a discussion with the director.
"Spartans" is about Yvan Sorel, 24, a loner and self-made man. He runs an MMA (Mixed Martial Arts) club in a district of north Marseilles abandoned by the French state long ago. A champion, who carried the colours of France without any help, now an instructor, teaching kids from this tough neighbourhood respect and tolerance though sport.
SPARTANS
Documentary film by  Nicolas Wadimoff – 80′ – 2014
Produced by : Nicolas Wadimoff et Jean Golinelli, Christine Camdessus and Serge Gordey / Alegria Productions – with the contribution of RTS Radio Télévision Suisse // SRG – SSR and France Télévision – Screenplay : Nicolas Wadimoff et Jean Golinelli – Image: Joseph Areddy – Editing: Jean-Daniel Schneider – Mixing: Niels Barletta