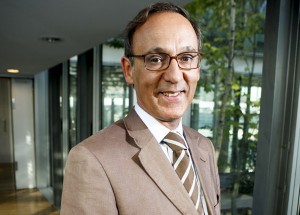 On March 22nd, at the end of the CMCA's board meeting in Marseille, Jérôme Cathala was unanimously elected the association's chairman.
He takes over from Hervé Michel, who has been the CMCA chair since October 2013 but has recently been appointed head of TV France International.
On February 1st Jérôme Cathala was appointed France Télévisions' Director of International Relations and Cooperation, responsible for overseeing the France Télévisions group's international policy and its related actions, in particular European, French and Mediterranean cooperation.
A graduate of the Centre de formation de journalistes and the Law Faculty at Paris XI, former auditor of IHEDN (Institut des hautes Etudes de Défense Nationale) and of the EBU's Executive Programme, Jérôme Cathala began his career in 1986 as a reporter/editor for France 3 Ile-de-France and TF1.
A reporter on France 2 and France 3, Berlin correspondent for France 2, then senior editor of France 3's domestic political department, he became regional director of France 3 Sud, then France 3's editorial director, and until December 2015 was head of news magazines at France Télévisions.
Jérôme Cathala is also in charge of the Info 2015 project.